Following our successful rebrand and repositioning of specialist insurance expert Pro Global, we speak to the principle team leads, Jonathan Squirrell – Founder and Director, and Vanessa Marchant – Creative Lead on the project, to get their thoughts about this benchmark milestone for the organisation.
OB has helped Pro Global move from a being a Trusted Provider to a wider, more holistic Trusted Advisor role. Underpinned by updated branding, a new website and a recalibration of its offering, Pro has grown from a company that provides expert run-off services to one that now delivers insightful advice across a broad range of insurance areas and specialties.
Q. What was the reasoning behind the repositioning work?
A. (Jonathan)
"The repositioning was informed and driven by the outcomes from a brand audit that we carried out. The audit highlighted where Pro were trying to get to and what it wanted to be perceived as versus how it was perceived at the time of the audit. Our aim was to reposition Pro's visual brand, its messaging and its behaviour, to align with the CEO's vision for the company, whilst of course being true to Pro's core strengths and capabilities".
A. (Vanessa)
"Pro Global had reached a threshold in the insurance services industry where they were ready to take the step into a thought leadership role. Their brand and comms needed to reflect this change".
Q. How do you approach a project of this scale? Global / stakeholder management etc?
A. (Jonathan)
"There is a lot of planning with the client on a project like this, as it's important to have everyone's buy-in. You want to gather input from all key stakeholders and both internal and external audiences, as you never know where key insights will come from. So it's helpful if everyone is aware and engaged with what you are trying to achieve, from early on in the process. It's also important to have feedback loops to present findings and development work, so that stakeholders are fully involved and aligned with the project outcomes and the brand repositioning as it emerges".
A. (Vanessa)
"There is a process to be followed that leads all stakeholders through the journey from an initial thought of change, to the final brand, vision and comms. The ultimate goal is the internal culture shift needed to step fully into their new 'clothes'. This is both a business and emotional journey, so has to be handled carefully, at a pace everyone is comfortable with".
Q. How was the strategic aspect of the project reflected in the creative approach?
A. (Jonathan)
"The strategic insights culminated in the writing of briefs for the brand and creative delivery. I would really take my hat off to Vanessa who led the creative approach and delivery. Ness was incredibly focused on making sure that the brand delivery aligned with the strategic repositioning. This involved a lot on input of colour and image research, alongside the creation of a full brand language for Pro Global, which was initially brought to life through the new brand guidelines and website.

I think it is very easy at this point for clients to be side-tracked by one person's opinion of what looks nice, rather than questioning that it fits with strategic objectives, so you do have to be careful to stay on the road and remain informed by the insights that you've gathered."
A. (Vanessa)
"The feedback from clients and prospective clients was clear. The old brand did not reflect what they knew to be true of Pro Global. It also did not reflect where our strategy was placing Pro Global in the marketplace. We had very strong verbal indicators from clients, prospective clients and stakeholders that we could work with. The aim was to create a brand and visual identity to place Pro exactly where they need to be in order to make the shift".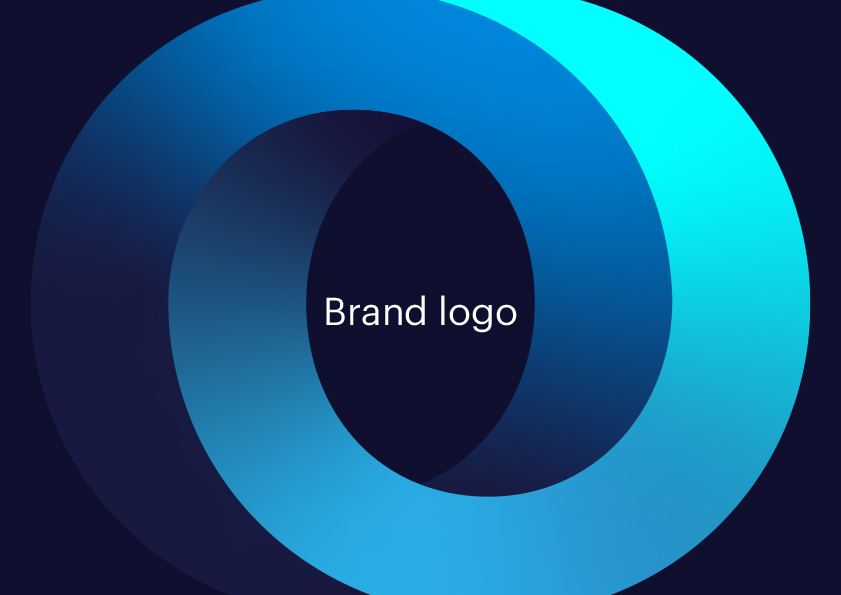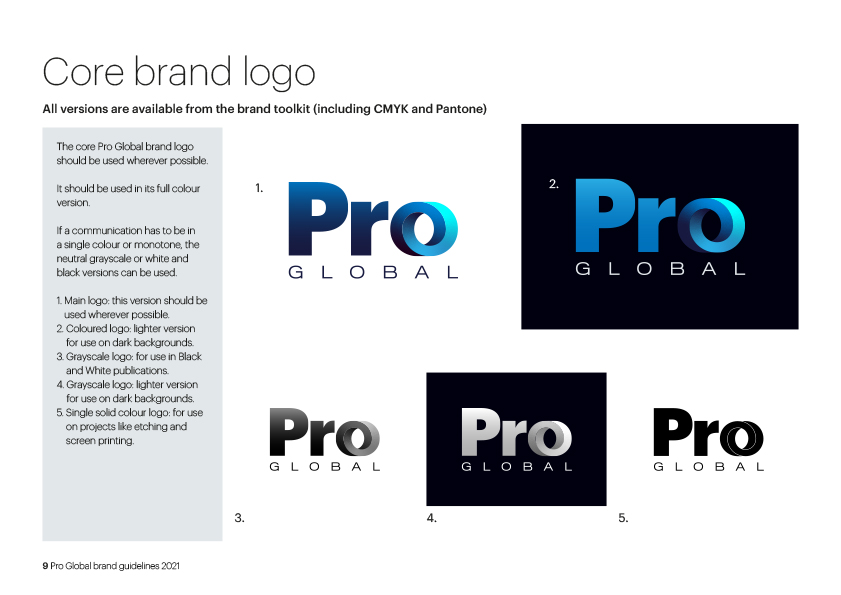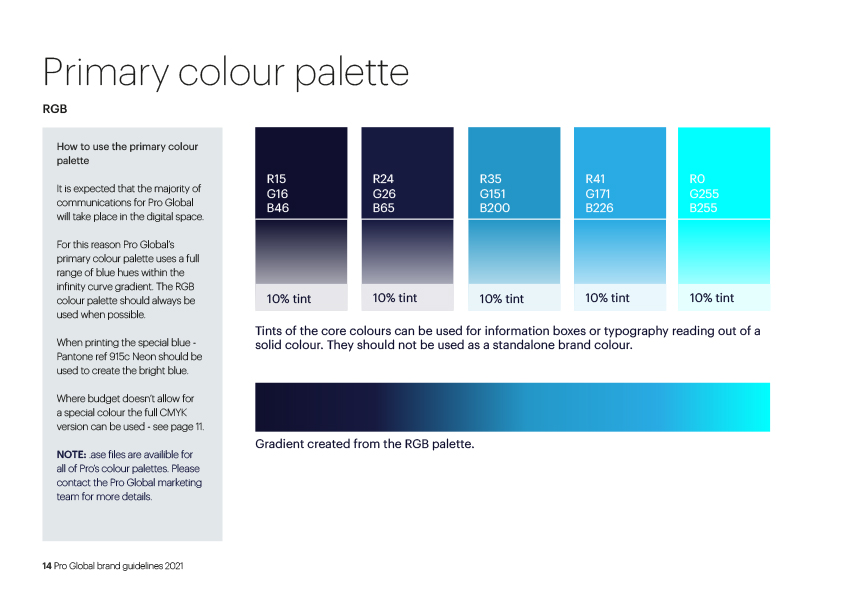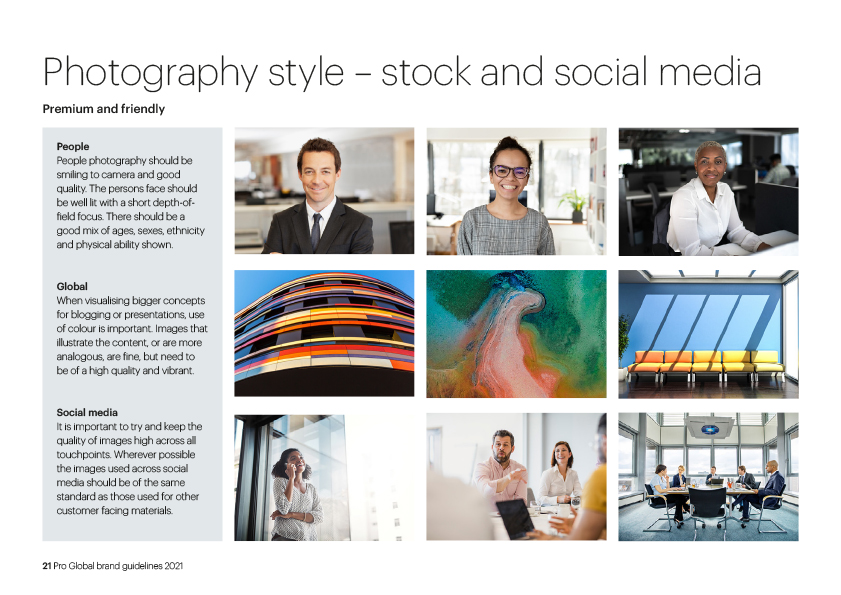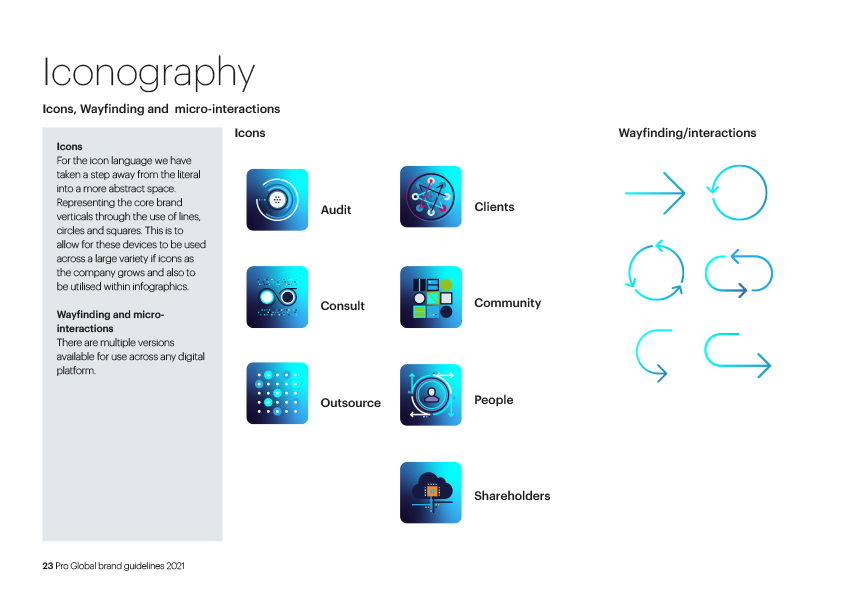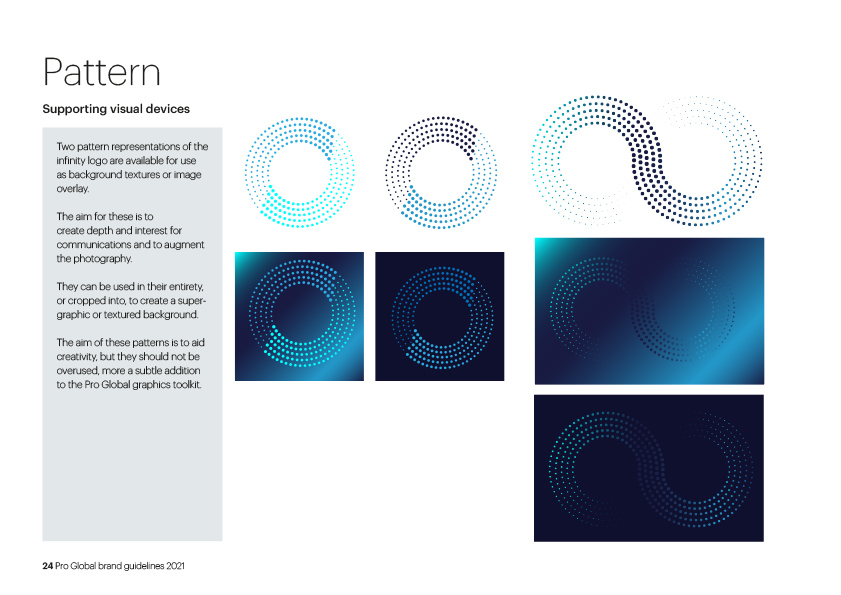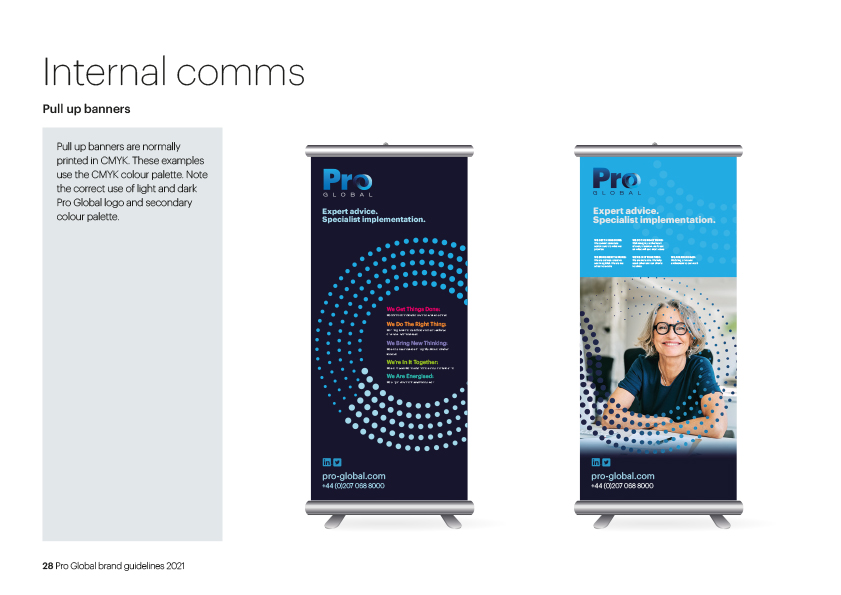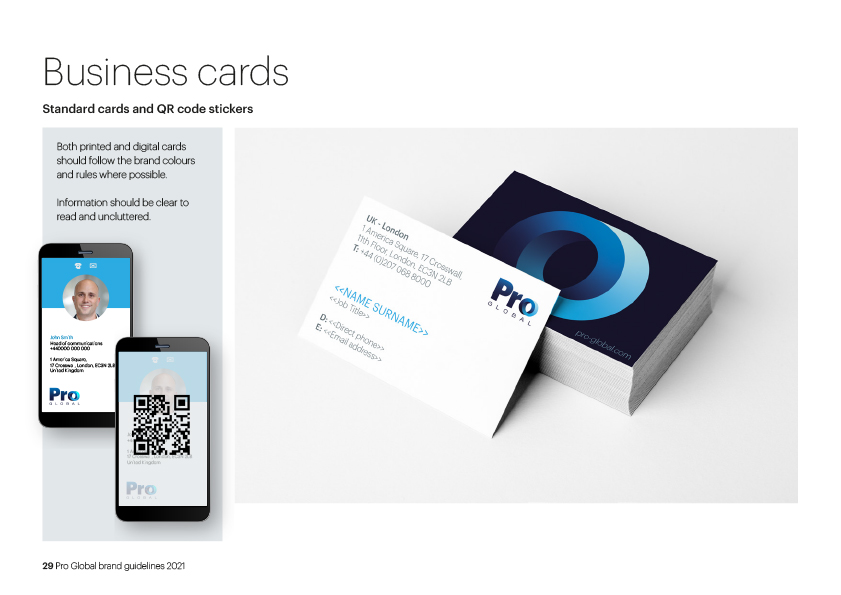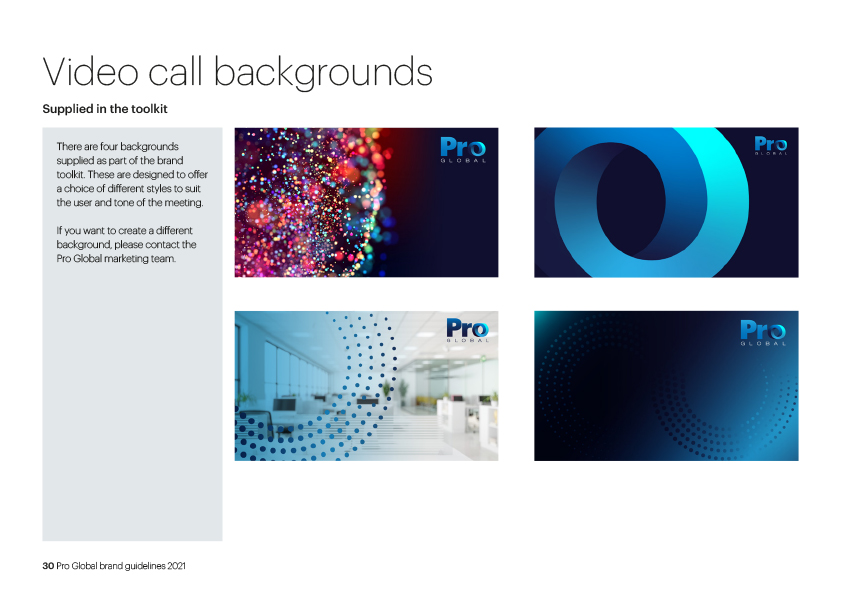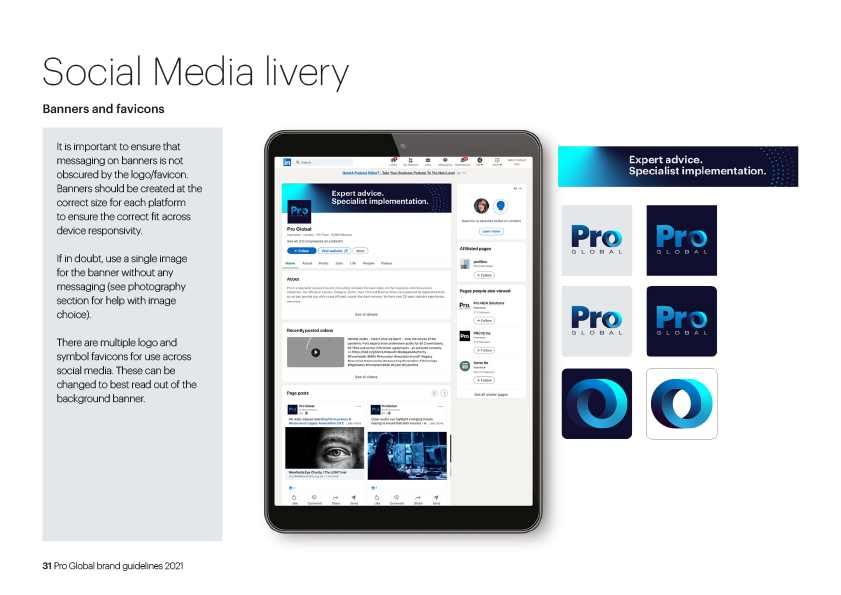 Q. What has the impact been, following the launch of the newly positioned brand?
A. (Jonathan)
"The repositioning provided greater clarity of who Pro Global are, what they do and where they are going, this provides a positive impact for both internal and external audiences. This clarity has helped to energise marketing comms and provide greater engagement with them. We have heard positive feedback on the new branding from clients and from those within Pro Global too.

Our goals with the repositioning and new brand design roll out was to:
– Build awareness of Pro Global's offering
– Make their offering easier to understand and navigate
– Position Pro Global as market leaders within their areas of expertise and reflect their professionalism

I think that we are achieving on all of these, we have certainly created strong brand foundations, but we are going to circle back for direct feedback with stakeholder groups to gain a measure on the positioning work".
A. (Vanessa)
"We have had very positive feedback from all areas. As time goes on and the brand and visual identity are used across different types of collateral, the scope of the design is becoming more and more apparent. As we continue to work with Pro Global we will explore further how the brand will grow to support subsidiary departments and products. This will enable Pro to solidify their growing market share and be instantly recognisable within the insurance services arena".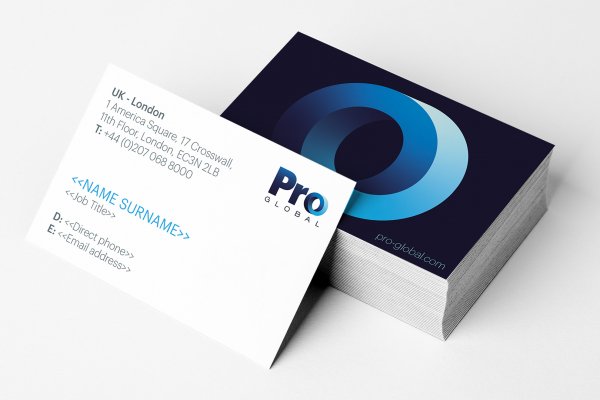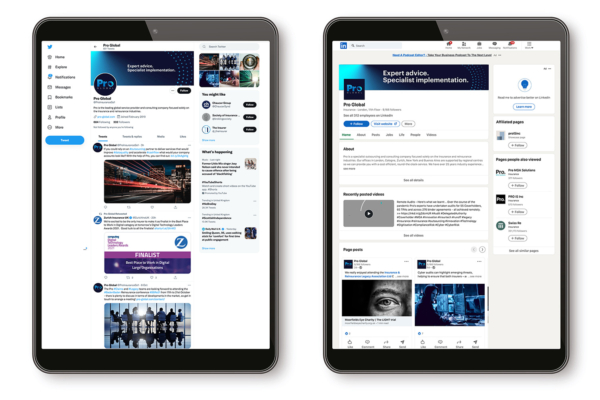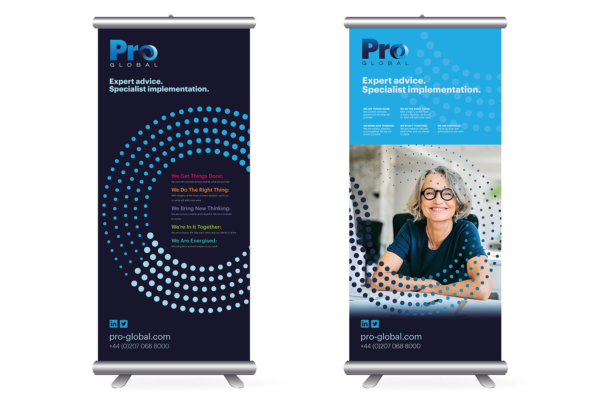 Q. What advice would you give other insurance firms that need to reposition themselves?
A. (Jonathan)
"I think you've got to go into the process quite open-minded, everyone will have a sense or feeling of what needs to change and why, but rather than jumping to conclusions, it's good to go through the process, to build a full view, with the insights that you gain along the way. You're realigning the brand foundations for your business, so you want them to be right".
A. (Vanessa)
"The insurance market is a very crowded space and that means your brand needs cut-through. The best place to build that from is a firm understanding of who you are as a company. Not solely what your USP is, but who you are at your core. People are getting more and more concerned about who is behind a brand, what they stand for, what their ethics are, what their environmental footprint is. It's no longer enough to just look good and provide a slick service, there needs to be a solid brand foundation and that will form the bedrock of all your communications. This is true for all business types, but B2B and B2C in particular".