In mid-June 2022 the first in-person annual conference for the British Council for Offices (BCO) in over two years was 'unleashed' on Manchester – an exceptional host city for the long-awaited industry event.
OB Consulting were short-listed and engaged by the BCO in August last year to create and deliver an exciting, stand-out brand for the conference – one that would capture and engage audiences. After a solid nine months of development and production, across digital, print and physical collateral, it all came down to a gone-in-a-flash two days of non-stop action and activities across Manchester.
Off the back of the BCO President's remarks of "it's been the best conference branding we've ever had", the OB team were asked to reflect on their work and outcomes that they were so pleased to be a part of – we spoke to OB Brand Consulting Director Julian Atkins, and Design Lead Debbie Gossington, for their thoughts…
Q. Having been selected by the BCO, what was your thinking behind the branding approach and direction that OB were going to take?
A. (Julian)
"We asked ourselves 'What makes a great event?'. Well it's about being entertained, being engaged, being part of something that is a shared experience. A joined up experience, joined up by consistent stand-out branding and messaging. And that means an effective memorable brand, applied across everything that the delegates take part in – all touch points, visuals and the conference pitch".
A. (Debbie)
"The overarching theme was all about how people responded to challenge and opportunity, post pandemic. At the time of the BCO event, it was a chance to turn what had been quite negative into a positive and think about things moving forward in an optimistic and inspiring way. Manchester has an extraordinary industrial heritage and has a history of inspiring people, so we wanted to create something that would embrace all that rich culture".
Q. Out of the creative routes you developed, what was the key inspiration behind the branding of the route that was chosen?
A. (Julian)
"It was the strength and simplicity of what we called the 'Powerhouse' route, which was inspired and driven by Manchester's rich industrial past and cultural heritage. But also the colour, energy and vibrancy of the city now. It was this distinctive and colourful route that gave us the creative platform to propel the brand into something quite wonderful and engaging, yet simple enough that it could easily be applied across everything that was needed for the conference. And of course something that was memorable and eye-catching for the delegates to easily recognise".
A. (Debbie)
"Due to Manchester's powerful industrial heritage and BCO's industry leading position in the built environment, we chose to use spatial awareness and negative space to create a 'Powerhouse' industrial 'factory' shape, which also created an architectural 'M' to represent the event's host city, Manchester. This iconic 'M' became the hero logo mark for the conference and inspired the creative approach to all of the event's touchpoints".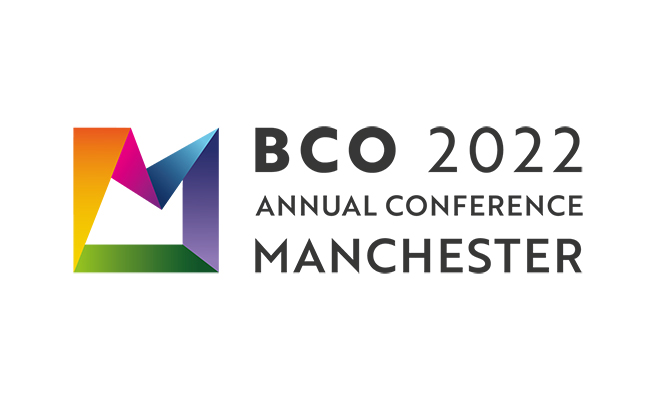 Q. When developing a conference brand of this scale, what is the process that OB would take on a project like this?
A. (Julian)
"With a long nine month programme of development and production of an extensive suite of deliverables, you need to have a strong strategy in place to ensure consistency of delivery and of quality. A well orchestrated, collaborative and organised production roadmap is also essential throughout all that time. What's remarkable is that nine months' worth of work is all over in just three days but what a three days!"
A. (Debbie)
"This was a very thorough project, covering every single touchpoint of the event. We had to consider the scale of everything; how will this best work on something small but also something very large".
Q. What was the most enjoyable aspect of the project and what are you most proud of following the launch of the event?
A. (Julian)
"The initial concept just sings, everything about it just works, seeing it grow across all the different collateral, evolve as a brand and then the ultimate expression of it as a five metre high, 3-dimensional version, as a centrepiece of the brand in the middle of the conference. It's the physical version that pulled everything together and celebrated a great idea and brand that represented the entire event".
A. (Debbie)
"I found it very interesting working across the different breadths of scale, from creating tiny digital social media items in pixels, through to a huge brand centrepiece up to five metres tall. The big 'M' really pulled the entire event together and it's always good to create something different and break the mould. It makes the event much more memorable. I was most pleased with creating a brand that could be deconstructed and the elements used in a playful way and then used for something completely different. Guidelines and suggestions allowed everyone to be quite creative with the assets without it losing the sense of the identity".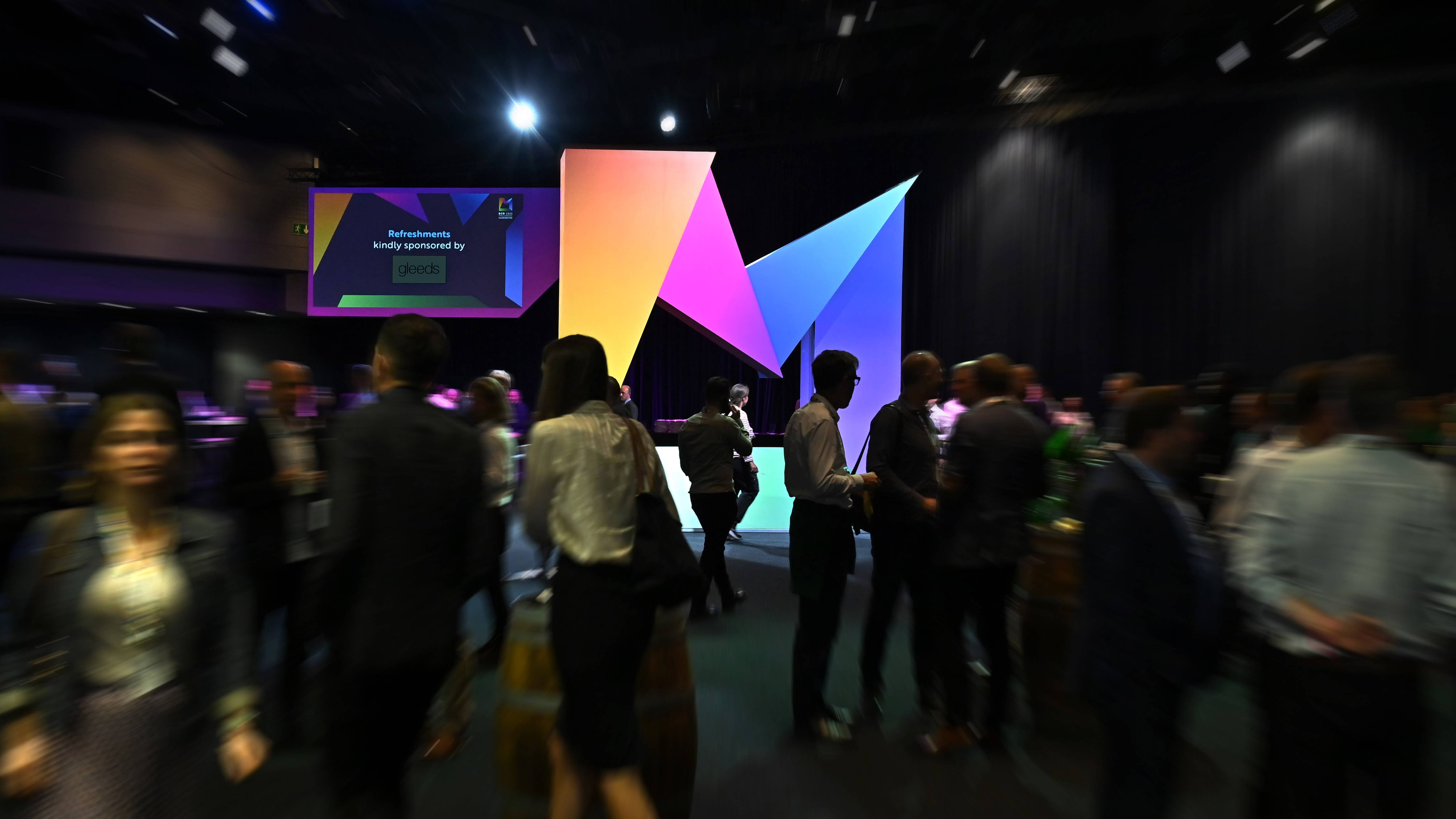 Q. What is essential in making an event like this a success?
A. (Julian)
"Fundamentally it's having a strong and robust creative strategy and brand to work with in the first place. After that, it's all about consistency of delivery, having a clear line of communication with your client and buy-in across-the-board with the direction that you want to go in. Having a creatively minded group of stakeholders makes a massive difference and we can see that with the outcome of the event".
A. (Debbie)
"Communication and timings are key for a project of this scale. The various teams worked really well together and managed to deliver a fantastic result for a hugely popular event".
Following the huge success of the BCO Conference in Manchester, OB are delighted to announce that we've now been appointed to create the branding for BCO's next Annual Conference, lined up for June 2023 in Dublin.